14 Mar, Pakyong : Renowned British theoretical physicist Stephen Hawking died on Wednesday after suffering from complications due to amyotrophic lateral sclerosis (ALS) – a progressive neurodegenerative disease. He was 76.
Best known for his work on black holes, the cosmologist theorized that contrary to the prevailing scientific belief that black holes were inescapable for all forms of matter and energy, they actually emitted a form of radiation – now known as Hawking radiation.
He also played a key role in the mathematical effort to unify Einstein's general theory of relativity with the emergent field of quantum physics.
---
https://youtu.be/fSkfGBQu4u8
---
BBC Quotes
Stephen Hawking – who died aged 76 – battled motor neurone disease to become one of the most respected and best-known scientists of his age.
A man of great humour, he became a popular ambassador for science and was always careful to ensure that the general public had ready access to his work.
His book A Brief History of Time became an unlikely best-seller although it is unclear how many people actually managed to get to the end of it.
He appeared in a number of popular TV shows and lent his synthesised voice to various recordings.
Stephen William Hawking was born in Oxford on 8 January 1942. His father, a research biologist, had moved with his mother from London to escape German bombing.
Hawking grew up in London and St Albans and, after gaining a first-class degree in physics from Oxford, went on to Cambridge for postgraduate research in cosmology.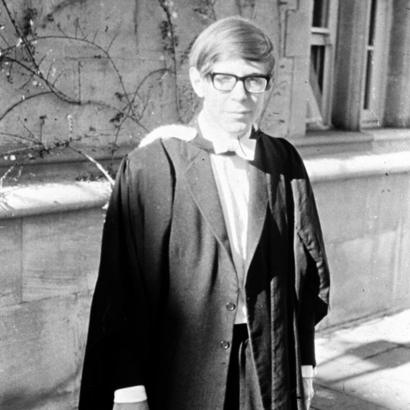 As a teenager he had enjoyed horse-riding and rowing but while at Cambridge he was diagnosed with a form of motor neurone disease which was to leave him almost completely paralysed.
As he was preparing to marry his first wife, Jane, in 1964 his doctors gave him no more than two or three years of life.
But the disease progressed more slowly than expected. The couple had three children, and in 1988 – although Hawking was by now only able to speak with a voice synthesiser following a tracheotomy – he had completed A Brief History of Time – a layman's guide to cosmology.
It sold more than 10 million copies, although its author was aware that it was dubbed "the most popular book never read".
Celebrity
Hawking discovered the phenomenon which became known as Hawking radiation, where black holes leak energy and fade to nothing. He was renowned for his extraordinary capacity to visualise scientific solutions without calculation or experiment.
But it was perhaps his "theory of everything", suggesting that the universe evolves according to well-defined laws, that attracted most attention.
"This complete set of laws can give us the answers to questions like how did the universe begin," he said. "Where is it going and will it have an end? If so, how will it end? If we find the answers to these questions, we really shall know the mind of God."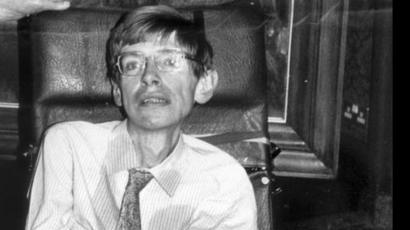 Hawking's celebrity status was acknowledged even by The Simpsons – he was depicted drinking at a bar with Homer, suggesting he might steal Homer's idea that the universe is shaped like a doughnut.
He also appeared as himself in an episode of the BBC comedy series, Red Dwarf and as a hologram of his image in Star Trek: The Next Generation.
The rock group Pink Floyd used his distinctive synthesised voice for the introduction to Keep Talking, on their 1994 album The Division Bell.
Undeterred by his condition, he continued his work as Lucasian Professor of Mathematics at Cambridge University, and in 2001, his second book – Universe in a Nutshell – was published.
Erratic
He believed his illness brought some benefits; he said before he developed the disease he had been bored with life.
But his condition inevitably made him dependent on others. He often paid tribute to his wife, who had looked after him for more than 20 years, and friends and relatives were shocked when he left her for one of his nurses, whom he married in 1995.
By 2000, Hawking was a frequent visitor to the emergency department of Addenbrooke's Hospital in Cambridge, seeking treatment for a variety of injuries. Police questioned several people about allegations that he had been subjected to verbal and physical abuse over a period of years.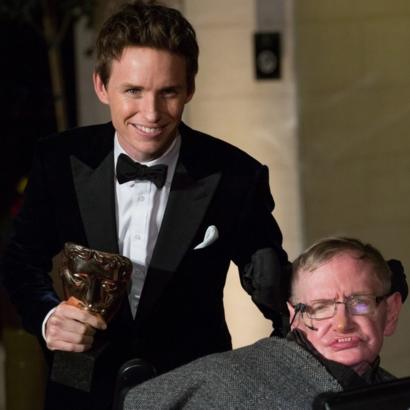 He was known to be an erratic, almost reckless driver of his electric wheelchair, and Hawking insisted his injuries were not caused by abuse. No action was taken.
In 2007, he became the first quadriplegic to experience weightlessness on board the so-called "vomit comet", a modified plane specially designed to simulate zero gravity. He said he did it to encourage interest in space travel.
"I believe that life on Earth is at an ever-increasing risk of being wiped out by a disaster such as sudden nuclear war, a genetically engineered virus, or other dangers. I think the human race has no future if it doesn't go into space. I therefore want to encourage public interest in space."
In 2014, the film The Theory of Everything was released, based on Jane Hawking's account of their courtship and marriage. Hawking himself met Eddie Redmayne as part of the actor's preparation for taking on the role of the scientist.
In a series for the Discovery Channel, he said it was perfectly rational to assume there was intelligent life elsewhere but warned that aliens might just raid earth of its resources and then move on.
He once wrote that he had motor neurone disease for practically all his adult life but said that it had not stopped him having an attractive family and being successful in his work.
"It shows," he said, "that one need not lose hope."
https://youtu.be/fSkfGBQu4u8
---
British physicist Stephen Hawking, who is known as one of the biggest pioneers of science, died on Wednesday, March 14 at the age of 76.
Diagnosed with motor neurone disease in 1963 at the age of 21, Hawking was given only a few years to live, but he defied the odds and survived for more than half a century.
The rare disease left him wheelchair-bound and largely unable to speak except through a voice synthesiser.
As a tribute to the legendary scientist's inspiring work and life, we give you some of his famous quotes and facts about him.
Facts:
1. Stephen Hawking was born in Oxford and grew up in St Albans, as the eldest of four siblings. His father was a research biologist and his mother was a medical research secretary. His birth date is the 300th anniversary of the death of physicist Galileo Galilei.
2. Hawking has twelve honorary degrees, was awarded the CBE in 1982 and is a Fellow of The Royal Society and a Member of the US National Academy of Science.
3. Hawking has estimated that he studied about a thousand hours during his three years at Oxford. These unimpressive study habits made sitting his finals a challenge, and he decided to answer only theoretical physics questions rather than those requiring factual knowledge.
4. Hawking was diagnosed with ALS, amyotrophic lateral sclerosis or Lou Gehrig's disease, at the age of 21. He has a rare, slow-progressing form of ALS, which has gradually paralysed him over the decades.
5. Hawking's 1988 book A Brief History of Time became a bestseller and sold more than 10 million copies in 20 years. It was on the Sunday Times bestseller list for more than four years.
6. In 2002, Hawking was ranked number 25 in the BBC's poll of the 100 Greatest Britons.
Quotes:
1. "However difficult life may seem, there is always something you can do and succeed at."
2. "My advice to other disabled people would be, concentrate on things your disability doesn't prevent you doing well, and don't regret the things it interferes with. Don't be disabled in spirit as well as physically."
3. "I have noticed even people who claim everything is predestined, and that we can do nothing to change it, look before they cross the road."
4. "We are just an advanced breed of monkeys on a minor planet of a very average star. But we can understand the Universe. That makes us something very special."
5. "Life would be tragic if it weren't funny."
---
Why Stephen Hawking called Artificial Intelligence threat to mankind
The acclaimed British theoretical physicist discussed and spoke about a wide range of issues – from the existence of extraterrestrial life to the nature of philosophy – throughout his lifetime.
One such subject was artificial intelligence (AI) and Hawking always warned against it and its growing dominance over humanity.
"Earth is becoming too small and humanity is bound to self-destruct, with AI replacing us as the dominant being on the planet," he told wired.com in November 2017.
"I fear that AI may replace humans altogether. If people design computer viruses, someone will design AI that improves and replicates itself. This will be a new form of life that outperforms humans," Hawking said.
The cosmologist stressed upon the increasing developments in AI and while he lauded the progress, he also feared that machines will one day be more dominant than human beings.
He noted that a new space programme should be humanity's top priority "with a view to eventually colonising suitable planets for human habitation".
"I believe we have reached the point of no return. Our earth is becoming too small for us, global population is increasing at an alarming rate and we are in danger of self-destructing," Hawking warned.
In 2016, at the opening of Cambridge University's AI centre, Professor Hawking said that AI could either be the best or worst invention humanity has ever made.
Earlier in March, the renowned British physicist said there was nothing around before the Big Bang.
Speaking during a TV talk show "Star Talk" on National Geographic Channel, Hawking propounded his theory on what happened before the universe came into existence.
Hawking's theory lies upon the assumption that the universe has no boundaries.
During the show, Hawking argued that before the Big Bang, real ordinary time was replaced by imaginary time and was in a bent form.
"It was always reaching closer to nothing but didn't become nothing," he said.
Further, Hawking drew an analogy between the distorted time with Ancient Greek philosopher Euclid's theory of space-time, a closed surface without end.
Taking the example of Earth, he said: "One can regard imaginary and real-time beginning at the South Pole … There is nothing south of the South Pole, so there was nothing around before the Big Bang."
"There was never a Big Bang that produced something from nothing. It just seemed that way from mankind's perspective," Hawking said, hinting that a lot of what we believe is derived from a human-centric perspective, which might limit the scope of human knowledge of the world.
---
Stephen Hawking, renowned British physicist, breathed his last on Wednesday, March 14 after suffering from amyotrophic lateral sclerosis (ALS), the fatal neurological disease. He was 76.
The legendary scientist was diagnosed with the condition in 1963 and lived with it for more than five decades.
Here are a few points one needs to know about the disease that claimed the life of the cosmologist:
1. Amyotrophic Lateral Sclerosis, commonly known as ALS, is a progressive, neurodegenerative disease. It affects the nerve cells in the brain and spinal cord that make the muscles of both the upper and lower body work.
2. The disease is also referred to as Lou Gehrig's disease, named after the famous baseball player who is believed to have died from the illness in 1941.
3. Early symptoms of the disease include stiffness and muscle weakness that worsens over time and victims gradually lose the ability to walk, speak and breathe.
4. Currently, there is no cure or treatment that halts or reverses the condition. However, there are some options that helps to manage the symptoms.
5. According to ALS Association, the average survival time for those affected by the condition is three years.
6. Only five percent of the patients live for 20 years or more.
7. ALS came into the limelight in 2014 after the viral "Ice Bucket Challenge", with people uploading videos of themselves pouring ice-cold water over their heads in a bid to raise awareness about the disease.